The Six String Nation guitar and related projects were conceived in 1995 by Peabody Award winning writer and broadcaster Jowi Taylor, inspired by the looming Quebec Referendum of that year and by the commitment of luthier George Rizsanyi to the value of Canadian woods over the usually preferred exotics. The guitar was to be made entirely of woods and materials from every province and territory, including many of incredible historical and cultural significance. (Read the whole story over at the Six String Nation site.)
Everybody who heard and was moved by the compelling story volunteered their time to help bring this vision to fruition. I was honoured to be asked to create the visual identity for this truly inspiring project. The chosen identity was envisioned as the view from inside the guitar, looking out through the soundhole at the passing Canadian landscape, with the strings resonating into a subtle suggestion of the shape of a maple leaf.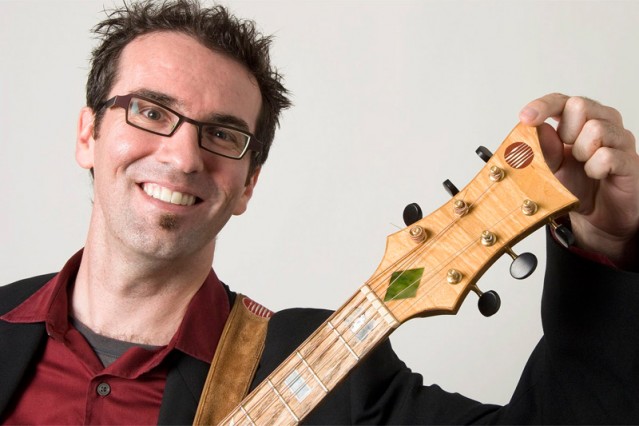 At the Toronto launch of the guitar in 2006, I was even more humbled to learn that the logo was inlaid into the guitar itself and embroidered on the strap.
In 2009, the Royal Canadian Mint also honoured the Six String Nation with a guitar pick-shaped coin featuring the rosette designed by luthier George Rizsanyi and the Six String Nation logo reproduced holographically in the middle of the coin.
Also in 2009, Douglas & McIntyre published a book documenting the development of the guitar, the history behind some of the materials, some fascinating stories of the guitar's travels, and photographs of some of the thousands of Canadians who have held, played and had their pictures taken with this cultural icon.
It was a tremendous honour to be invited to share in the creation of such an important and significant Canadian cultural artifact.