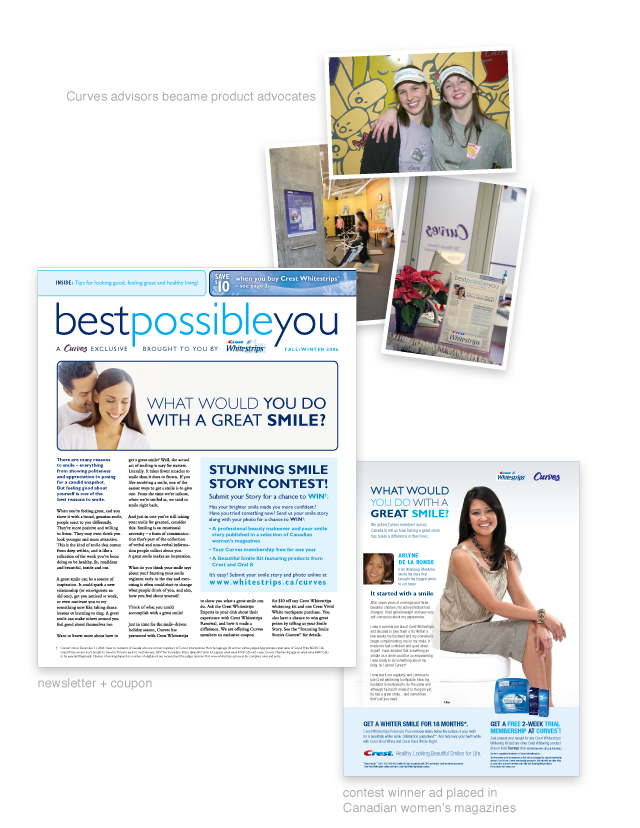 Crest Whitestrips is one of those products that does not lend itself well to sampling, because results are only seen over a longer period. Therefore, knowing someone who has tried the product and liked it can be an important factor in the trial decision.
In developing the program, we researched potential partners, and discovered an excellent fit with Curves fitness clubs. Their members were in the right demographic for the program, but more importantly, they were people who had already made a commitment toward self-improvement, and according to P&G's research, the target consumer for the teeth-whitening category in Canada was more interested in whitening to feel good about themselves than simply a cosmetic improvement.
We created a program in partnership with Curves to turn in-club advisors into product advocates. Each club was given sample product for the advisors to use, along with posters and newsletters and a $10 off coupon for product trial. The program also included branded apparel and an advisors manual with tips on how to engage members in conversation about the Crest line of whitening products.
In its first year, the program was very successful, achieving record redemption rates. It was renewed and expanded for a second year to include a Crest-sponsored a makeover contest for the Curves members who shared stories about how having a great smile made a difference in their life.
Lavalife (Canada's top online personals site) was also brought on as a partner as it represented another opportunity to speak directly with targeted audiences who were also engaged in life-changing activities. Crest sponsored the "send a smile" functionality within Lavalife, as well as a "Smile of the Month" contest with product prizing and a grand prize of a cruise. Targeted banners within the Lavalife environment also directed users to sign up to receive a $10 off coupon.